Proven Techniques to Migrate Emails from Office 365 to Gmail
Editorial Team | October 31st, 2022 | Backup, Gmail
Summary: Gmail is among the most used email clients and has more users active than Office 365. This article will present to you the numerous advantages of using Gmail instead of Office 365. Additionally, we will discuss the best ways to transfer emails from Office 365 to Gmail account. So, read this write-up carefully to get the most relevant solution to your problem. Go through the article till the end to know the best possible way to migrate emails from Office 365 to Gmail account.
Introduction
Office 365 is a subscription-based email client that users can avail through a monthly or annual subscription plan. Their basic plan provides access to MS Office and other features like storage for one drive that is free. Additionally, It comes with the newest cloud-based SAAS products, including Exchange hosted Exchange, SharePoint, Yammer, Skype for Business, and more.
In contrast, Gmail is a web-based email client that uses contacts, emails, and calendar tasks to deliver and receive mail. You can utilize a third-party application that supports IMAP and POP3 protocols to connect to your Google account through the Network.
Although both Gmail and Office 365 are the most widely used email services. However, many users choose Gmail compared to Microsoft 365 because of its simplicity and advanced features. Therefore, In the following section of this blog, we'll discuss the manual solution and professional solution of Office 365 to Gmail migration.
Manual Method to Migrate Emails from Office 365 to Gmail
Firstly, Log in to your Gmail account, from where you would like to export emails to Office 365.
After that, Select the gear icon, then select the Settings option.
Now, Go to the Account and Import tab and click on the import mail and contacts option.
Afterward, Input the username of your Office 365 account and press the Continue button.
In the next step, Enter the password of your Office account. Then, change the Port ID to 995.
Then, Select the Import mail option and click the Start Import button to begin the process.
Lastly, Open your Gmail account and click "Accounts and Import" in the "Accounts and Import" section to view your import status for Office 365 emails.
After following the above steps correctly, you can effortlessly migrate emails from Office 365 to Gmail. However, the manual approaches have some limitations that make the process more challenging for users. In the next section, we will go through the numerous drawbacks of manually doing Office 365 to Gmail migration.
Limitations to Migrate from Office 365 Emails to Gmail
Manual methods are long to follow because it comprises numerous steps to follow.
Also, it requires technical expertise to be able to do the manual process easily.
Manual conversion is a time-consuming procedure and isn't effective when it comes to massive email conversions at a time.
These methods aren't safe because they carry a high chance of losing information.
These are the drawbacks of using manual methods to import Office 365 email to Gmail. Therefore, many experts recommended opting for the professional approach to accomplish this task.
Office 365 to Gmail Migration Tool – A Professional Solution
However, we have seen that manual approach works to migrate emails from Office 365 to Gmail but also in a same scenario it gets failed too. So, if you have few mailbox data, then manual approach would work. But if you want to export multiple Office 365 email accounts, then you must need to prefer a third party tool. In this regard, we would recommend you to use Office 365 Backup Software, an advanced utility, to perform this process effectively. Although the tool has various advanced features which makes an entire task so simple and reliable to migrate Office 365 emails to Gmail account. It consists of various advance features as given below:
It helps you backup emails from Microsoft Office 365 to Yahoo Mail, Rediffmail, Zoho Mail, and many other cloud email services.
Users can effortlessly export unlimited emails from Office 365 account to Gmail with no limitations.
With the help of this utility, users can maintain their email folder hierarchy and attributes.
Also enables user to export Office 365 emails to PST, PDF MBOX, EML, CSV, HTML, DOC, and various other popular file formats.
Users can also use the "Admin" option to manage multiple accounts of Office 365 and move to Gmail account as per requirement.
Simple and easy to use GUI with self-explanatory interface to directly import Office 365 emails to Gmail.
Advance Filter Option will help you extract particular email messages out of Office 365 account to a Gmail account.
FREE Demo edition is also available to check out the full working procedure of the tool.
Additionally, it is compatible with Windows 11, 10, and previous versions of Windows. Also, this software provides a free trial version that will help you to analyze its performance. Now, in the next section, we will discuss the steps to perform this advanced utility.
Steps to Migrate Emails from Office 365 to Gmail
1. First download the Office 365 Backup Software and install it in your system.
2. Choose Office 365 option and enter your login details to sign in.
3. Once your Office 365 account gets login, the software panel quickly sync and load all mailbox folders. You can also choose only specific mailbox folders to export Office 365 emails to Gmail.
4. Thereafter, choose Gmail as your saving option from the options and enter your Gmail login credentials.
5. You can also opt for Advance Settings which lets you to create and adjust filters as per your requirement based on Date Range, Subject, To, and From.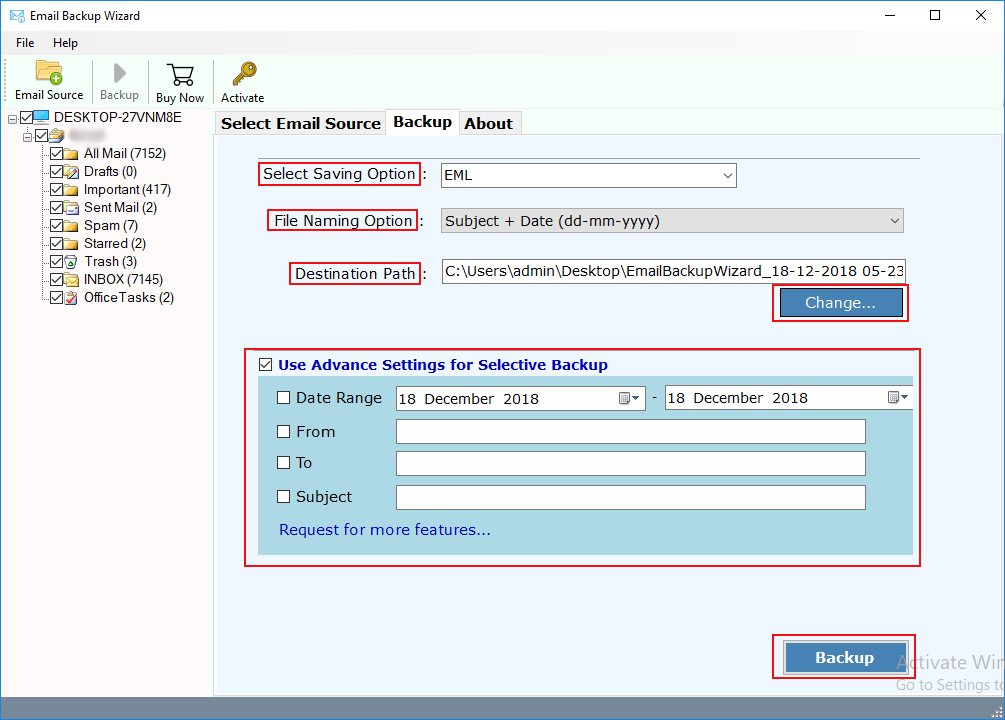 6. Last step is to click on Backup button and start to migrate from Office 365 to Gmail account.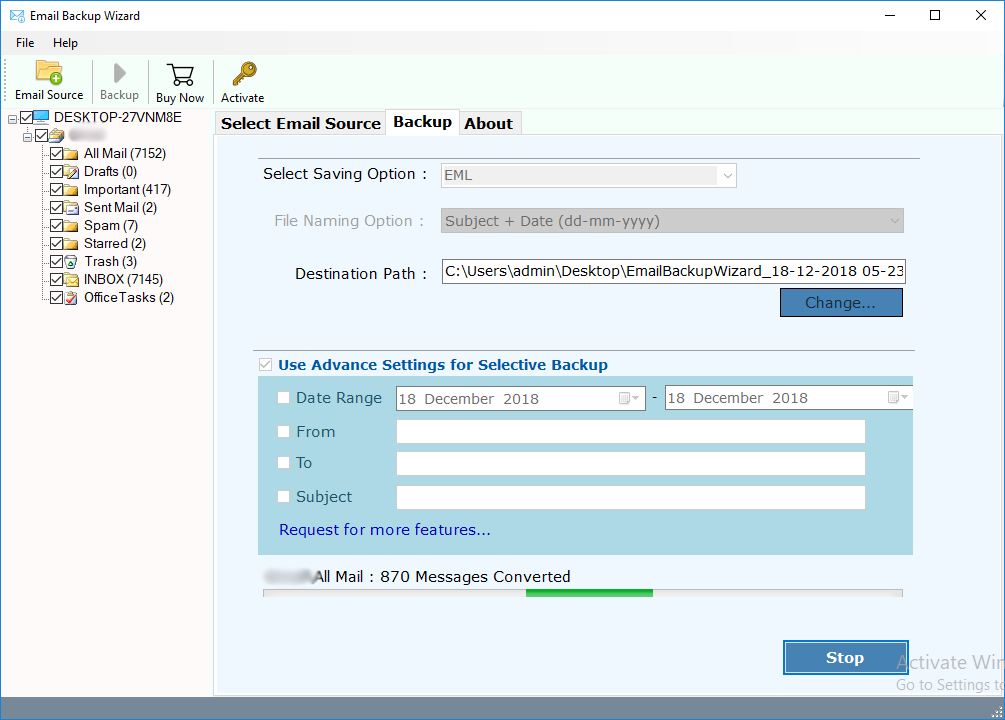 Conclusion
In this article, we've explained how to transfer emails from Office 365 to Gmail. This blog consists of a manual as well as a professional approach. However, we've observed that the manual approach takes a long time, and there is also the possibility of losing essential data. Thus, using the advanced method recommended by experts to move your emails from Office 365 to Gmail is recommended. Just go through this blog, this will definitely help you to migrate from Office 365 to Gmail account with so much ease.
If you have any confusion, then just hit the download button to check the trial edition of Office 365 to Gmail migration tool and check all the features of the tool.